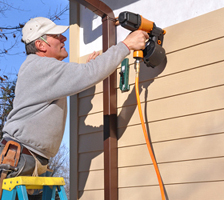 Are you looking to hire a contractor to build a new home or remodel your current home in the Atlanta, Georgia, area? If so, you're likely already aware that the landscape is broad and there are countless options to choose from. Where do you even start looking for a reputable contractor? Well, right here at Randall Pros is a good place!
Created by Randall Brothers, a long-tenured product supplier for home improvement companies and custom home builders throughout Atlanta, Randall Pros brings you the most reputable contractors that we've worked with. Thanks to our helpful website, you can save yourself a lot of time narrowing down your options.
All the contractors you'll find here at Randall Pros have an established presence, with at least one year of business in the state of Georgia. They also have a proven record of successful projects, delivered with the utmost craftsmanship and customer service. Plus, they are all fully licensed (where applicable) and insured as required by law.
Why is hiring a licensed contractor important?
A license indicates that they take their business seriously. After all, maintaining a license requires hundreds if not thousands of dollars in fees. By investing in themselves, licensed contractors set the standard that they are legitimate businesses and not just in it to make a quick buck.
A licensed contractor is required by law to have workman's compensation insurance covering their employees. This is to protect you, the homeowner, in the rare event that a worker is injured while on your property.
Most home improvement manufacturers will back their products with a warranty, but only if the contractor who installs it is licensed. Considering how much of an investment you're willing to make in your home, it's just not worth the risk to hire an unlicensed contractor.
At Randall Pros, we're happy to make this exciting opportunity easier for you by helping you find a licensed contractor for your project. The first step toward your new or remodeled home in Atlanta, GA, begins here.
Need an installer? Be sure to check out Randall Pro Contractors today.