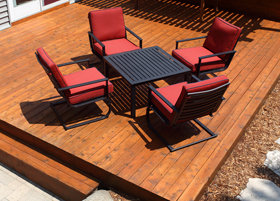 Having a deck installed at your home in Atlanta, Georgia, is a great way to spruce up your backyard. Picturing yourself grilling up burgers on a warm afternoon or watching the sun set with your favorite drink in hand can have you dialing up the first contractor you find to get a quote, but it pays to be patient. After all, you have big dreams for your new deck and you don't want those dreams shattered by shoddy workmanship and untrustworthy service.
To make your life easier, Randall Brothers created Randall Pros, a vital resource for homeowners looking to hire a reputable contractor. We've been working with industry professionals for years and are well acquainted with some of the best in the Atlanta area. By trusting our recommendations, you can enjoy peace of mind that your investment will be protected.
In fact, all of the contractors listed at Randall Pros are licensed (where applicable) and insured as required by law, have been in business in Georgia for at least one year, and have a proven track record of high standards of craftsmanship and outstanding customer service.
On our website, you'll find deck builders who can show you pictures of their work and provide answers to the following questions:
What type of materials do you work with?
Are you flexible with your design capabilities?
Will the work be performed by your employees or subcontractors?
Will there be a project manager on site?
Do you handle permitting?
How long will construction take and when can you start?
Do you include a warranty covering your workmanship?
At Randall Pros, you can decide to meet with a custom builder or who will complete your room addition. Regardless of your need, it is our pleasure to make improving your home a little easier. A beautiful new deck at your Atlanta, GA, home is only a few steps away.
Need an installer? Be sure to check out Randall Pro Contractors today.