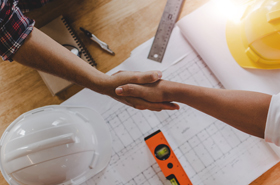 Hiring residential general contractors doesn't have to be a stressful process. Often times, homeowners take it upon themselves to research a variety of companies and choose the best ones. And sometimes, even ample due diligence still ends with a poor selection, thanks to deceptive advertising strategies and unfulfilled promises.
Save yourself the hassle of sifting through endless online search results and the heartache of a subpar final product and let Randall Pros be your guide. Our comprehensive list of residential general contractors comprises the best of the best in the Marietta area.
We hand selected contractors in the area who meet our strict standards of excellence, which include ample experience and proper licensing and insurance. Then we organized them categorically and alphabetically for your convenience.
Here are just some of the jobs that our residential general contractors are capable of completing flawlessly:
House painting
Siding installation
Energy-efficient window replacement
Entryway remodeling and door installation
Kitchen remodeling
Wet and dry area bathroom remodels
And much more
Randall Brothers has decades of experience in the home improvement industry, giving us insight into what really makes a contractor great. Trust our judgement and we are sure that you will be satisfied with the outcome.
Click below to view our listing of residential contractors, and you will be making the best possible decision for your Marietta area home. You don't need to settle for less or feel unsure about your decision as long as you rely on Randall Pros to help you make the right call.
Need an installer? Be sure to check out Randall Pro Contractors today.