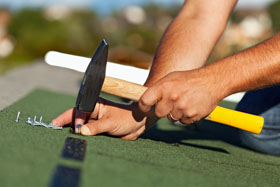 Are you planning on having new windows or exterior siding installed? Do you have an area of your home that needs a fresh coat of paint? Do you want to have a deck built at your home? If you answered yes to any of these questions, your primary concern should be hiring the right renovation contractor for the job.
Unfortunately, it can be difficult to determine if a contractor will actually follow through on the promises they make or if they are simply out to make a quick buck off overpriced materials and shoddy workmanship. Choosing the wrong one can have potentially disastrous results.
Fortunately, you have Randall Brothers to help steer you in the right direction. We have decades of industry experience supplying contractors in the Lawrenceville area and have assembled them onto our Randall Pros Gateway. Over the years, we have gleaned enough knowledge to know which renovation contractors you can rely on for great work.
That's why we have assembled a list of the very best renovation contractors, all of whom:
Have been in business in Georgia for at least one year
Are licensed (where applicable) and insured to protect you
Do great work classified as exceptional craftsmanship
Do business in a professional manner
Our directory is conveniently organized so that it is easy to browse and you can find what you are looking for quickly. You can read descriptions of their business, view past projects, read testimonials and even visit their social media platforms as well.
If you want to feel confident in the renovation contractors you hire, click here to browse our list. We have companies listed in our directory that serve residents throughout Lawrenceville, Georgia, and nearby areas.
Need an installer? Be sure to check out Randall Pro Contractors today.