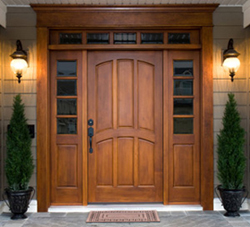 It's time to give your home's façade a long-overdue facelift by having your deteriorating front doors replaced, a relatively quick-and-easy home improvement that can nonetheless greatly benefit your home. When shopping for new entry doors, there are a range of materials to consider, two of the most common being steel and fiberglass. Both are quality materials, but which is better for your home in the Atlanta, Georgia, area?
That depends on a number of factors, so let's review some pros and cons. Fiberglass doors are energy efficient, easy to clean, and available in a range of styles and colors. However, they are also less durable than steel and come with a hefty price tag. Steel doors can't be matched in terms of security, and they're certainly more affordable than fiberglass, but they can rust over time, and design options are limited.
Both options can allow you to include design factors to include such as door sidelites and transoms to compliment the entrance of your home. Whichever option you choose for your style and budget, you can rest assure that a Randall Pros contractor can install it properly so you benefit from the full warranty that will accompany it.
At Randall Pros, we can help your front door replacement project go smoothly by recommending some of Atlanta's best door installers. These contractors are licensed (where applicable) and insured as required by law, have been installing doors for at least one year in the state of Georgia, and consistently provide top-tier customer service.
Here are the top 3 benefits of new entry doors:
Increased curb appeal
Improved energy efficiency
Enhanced security
Think about which benefits are most important to you and ask your contractor whether a fiberglass or steel door will work best for your project. At Randall Pros, we wish you all the best with improving your home in the Atlanta, GA, area.
Need an installer? Be sure to check out Randall Pro Contractors today.