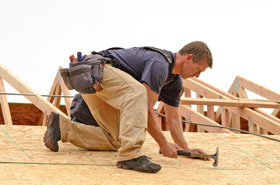 Finding the right home remodeling contractor is no easy task when you go it alone. That's why you should take advantage of Randall Pros. We make it incredibly easy to find the right renovation company for your Marietta home and our service is absolutely free.
The truth is that many Marietta homeowners simply don't have the time to search for a house remodeling contractor and learn everything they need to know about every company in the area. It's just not possible. That's why turning to the experts at Randall Pros makes so much sense.
The companies in our listing have been thoroughly vetted and must meet stringent requirements in order to be listed. You can be sure that they will complete your job flawlessly and for a fair price. We believe that these companies are truly the best in the business.
Our listing of local contractors include:
General Contractors
Custom homebuilders
Remodelers
Deck Builders
Painting/Siding Contractors
And Specialty Contractors
You will have peace of mind knowing that the job will be completed to the smallest detail, and with little effort on your part.
Gone are the days of wading through endless internet search results. Let us do the job for you. Click the link below to find the perfect remodeling contractor for your house in the Marietta area.
Need an installer? Be sure to check out Randall Pro Contractors today.