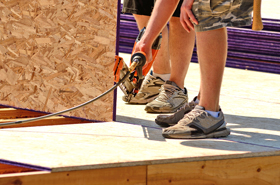 Reliable house contractors can sometimes be hard to come by in the Marietta area. Frankly, there are far too many companies out there who simply care more about their bottom line than they do about the satisfaction of their customers.
Partnering with one of these house contractors isn't just a minor inconvenience. In fact, it can often have disastrous results. Siding that isn't installed properly, resulting in warranty voids, windows that are installed with air leaks. Paint that chips and peels after just a few months. The list of problems caused by shoddy craftsmanship goes on and on.
But, there is good news. You can easily find a house contractor who is reliable and offers an excellent selection of high-quality products and expert installation services. All you have to do is turn to Randall Pros. Using our industry expertise, we have assembled a list of the best house contractors in the Marietta area.
All of the companies in our directory:
Possess a stellar reputation in the community thanks to their impeccable work
Have ample industry experience and a track record of success
Carry insurance that is designed to protect you, the customer
When you choose one of our house contractors, you'll have the peace of mind that comes with hiring the right person for the job. What's more, we are absolutely certain you will be completely satisfied with the final product.
To browse our directory of top-notch home contractors, simply click the link below, and you will be redirected and on your way to relief.
Need an installer? Be sure to check out Randall Pro Contractors today.