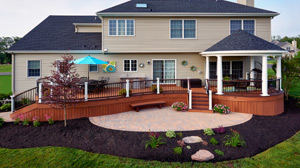 So, a beautiful new deck is in your future. And while many pleasing visions of you enjoying your new deck—having friends over for dinner, watching the sunset dancing around in your head, right now you're focused on design. If you've done your research, you've likely heard about the long-lasting durability of Trex composite decking. Are the hardwearing benefits true? Will a Trex deck resist scratching and other damage?
The short answer is yes. Trex decking features a hard shell that not only resists scratching but is also formulated to withstand long-term exposure to the elements with less maintenance than wood decking. But that's not to say it's indestructible. Low-maintenance doesn't mean no-maintenance, and even a Trex deck must be taken care of if you expect decades of use.
At Randall Pros, we're here to help with your deck installation by providing you with a list of reliable deck builders that serve the Atlanta, Georgia, area. All of our recommended contractors are licensed and insured as required by law (where applicable), have at least one year deck building business in GA, and provide exceptional customer service.
These professionals can further explain the hardwearing benefits of Trex decking and answer other questions you may have, such as:
Are there different styles of Trex decking?
Can a Trex deck be installed over an existing deck?
Do Trex decks get hot?
How long will a Trex deck last?
At Randall Pros, we hope we've helped with your deck installation project in Atlanta, GA, and wish you many happy memories on your new deck!
Need an installer? Be sure to check out Randall Pro Contractors today.