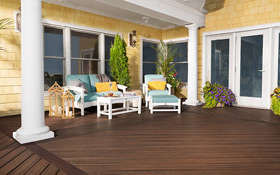 If you're searching for the perfect deck contractors to add a beautiful outdoor living space to your Marietta home, you've probably realized that there are a lot of options. You want your new deck to be the ultimate outdoor extension of your home, but finding someone to undertake the task of building it can seem daunting.
There are many contractors out there who will tell you they know how to build a deck, but to actually do it properly requires the right expertise and experience. You want to hire a deck contractor that will build your deck safely and correctly, especially if it is going to be elevated or connected directly to your home. That's where we come in.
At Randall Pros, we've taken the guesswork out of finding the right deck contractor for your Marietta project. Our recommended builders are qualified, insured, and established professionals who can turn your deck vision into a reality.
There are many reasons to go with a Randall Pro deck contractor, including:
A completed deck, faster – Going with a Randall Pro deck builder means they'll waste no time building your deck - so you'll have more time to enjoy the benefit
True build quality – Our contractors will make sure that your deck is built to high standards, exactly as you imagined it
Ease of ownership – When your deck is built the right way, owning and maintaining it is easy. Thanks to the quality craftsmanship of Randall Pro contractors, you can be sure that your deck will last for years to come
If you want to spend more time sitting on your new deck and less time dreaming about it, contact a Randall Pro today. With our list of qualified professionals throughout Marietta, you could be enjoying the outdoors sooner than you think. For any deck-related inquiries or to find a Randall Pro deck contractor, be sure to browse our contractor projects today.
Need an installer? Be sure to check out Randall Pro Contractors today.