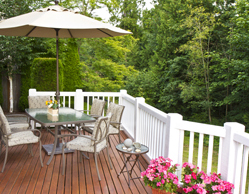 With so many deck contractors in the Atlanta metro area, it can be a challenge to determine which is the right one for your project. After all, you don't want someone who isn't experienced, but you also don't want to overpay for subpar work.
With so many factors to consider, it can help to narrow down your search a bit using some criteria that will help you filter out the decking contractors that don't meet your needs. One tool you can use is our listing of top-notch decking contractors.
The folks at Randall Pros have done all the hard work for you and assembled a directory of excellent deck contractors in the area. All of these companies have been thoroughly researched, vetted, and approved by our team of decking experts so you can feel confident that you will receive the great service and exceptional products you deserve.
You can be sure that every company in our listing has:
An exceptional reputation in the housing industry
Developed a large base of satisfied customers
A great reputation within the community
All necessary licensing and insurance
Moreover, all of them are willing to provide free consultations to discuss your decking plans and help your artistic and aesthetic vision become a reality. We are certain that if you partner with one of these deck contractors, you will be pleasantly satisfied with the results.
To learn more about the companies in our listing, click the link below and you will be redirected. Randall Pros proudly endorses these companies and you can rest easy knowing the project will be done right.
Need an installer? Be sure to check out Randall Pro Contractors today.