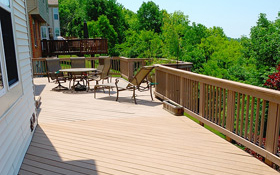 Are you searching for qualified deck builders to add the perfect outdoor living space to your Lawrenceville, GA, home? It can be tough finding qualified contractors that you know you can trust to undertake projects at your home. Luckily for you, Randall Brothers spent the time to establish our list of Randall Pros – the best deck builders, contractors, and remodelers in the greater Atlanta area – to make your search easier.
At Randall Brothers, we vet all of the professionals who carry our title of Randall Pro. You want to know that you can trust the builders you hire to do important home-improvement projects, like decks, safely and correctly. Working with our suggested contractors means that you can completely trust their work as well as the structural integrity and beauty of your new deck.
Builders you find through us have the knowledge and the capabilities to make your deck dreams a reality. They can help you realize your vision with custom designs and layouts tailored to your home and yard. From planning your deck to anchoring it in place, Randall Pros will make sure that your deck is safe, sturdy, and attractive.
To earn the distinction of being a Randall Pro, all of our recommended contractors and companies must be:
Fully licensed and insured
Completely qualified, with at least one year of experience
Professional, with established customer service standards
Through Randall Pros, we pride ourselves on connecting homeowners with the best possible remodelers, contractors, and deck builders. After all, our background comes from supplying the finest building materials and supplies at Randall Brothers. Be sure to browse our contractor's projects to choose the contractor that is best suited to tackle your next deck build.
Need an installer? Be sure to check out Randall Pro Contractors today.