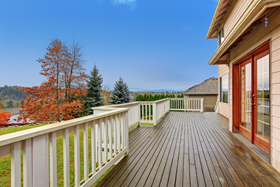 With any home improvement project, you want to be sure that the company you choose to complete the job will follow through on what they say and complete the job flawlessly, and hiring a deck builder is no different. Unfortunately, it can be tricky to discern which decking contractors deliver top-quality service and which ones are all talk.
That's where Randall Pros comes in. Using our vast industry experience, we have compiled a list of the most highly regarded deck builders serving the Atlanta metro area to help make your search fast and easy.
All of the companies in our listing have been thoroughly vetted and verified by our team of decking experts and are sure to exceed your expectations. These are licensed, experienced, and dedicated craftsmen who take pride in their work and are 100% devoted to customer satisfaction.
In order to make it into our listing of deck builders, the company must have:
All necessary licensing required to build a deck in the Atlanta metro area
Workman's comp and liability insurance to protect you, the homeowner
Plenty of industry experience and knowledge
A stellar reputation within the community and a plethora of rave reviews from happy customers
To browse our listing, simply click the link below, and you will be redirected. With the Randall Pros stamp of approval guiding your way, you can rest easy knowing that you are sure to find the right deck builders for the job.
Need an installer? Be sure to check out Randall Pro Contractors today.