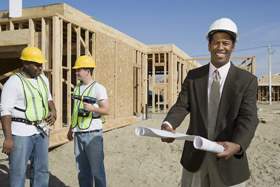 When it comes time to choose a contractor to build your new home, you naturally want to find a company that will follow through with what they say and deliver a great product. After all, a new home is one of the most significant investments a Lawrenceville resident can make.
Unfortunately, many custom home builders don't live up to the wild promises they make of low costs and quick turnaround times, and it's the homeowner that ends up paying the price, not the builder. The sad truth is that some companies simply would rather make a quick buck than produce a worthwhile product.
Fortunately, Lawrenceville homeowners now have a reliable resource to find local custom home builders who perform exceptional work and will follow through with their promises. Randall Pros is an easy-to-use directory of contractors, all of whom meet our exacting standards of excellence.
In fact, when you choose one of the custom home builders from our directory, you can be sure that they have:
An outstanding reputation of excellence in the community
Proper licensing and carry insurance, which protects you, the customer
Ample industry experience and have been in business for at least a year
The peace of mind that comes with hiring a contractor you can trust is truly priceless. When you use Randall Pros, you can be sure your new home will be a tangible embodiment of your vision.
Need an installer? Be sure to check out Randall Pro Contractors today.