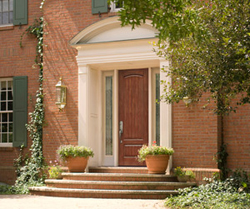 Has the front door on your home seen better days? If so, you may be thinking about a remodel to bring some fresh attention to this key area of your home's façade. An entry door renovation can be as simple as replacing the sidelites or as detailed as replacing the door as well as the sidelites and transom.
As far as sidelites go, there are numerous options to choose from. For instance, some sidelites have three panes of glass, some have five, and some have a single, full-frame pane. The various styles range from traditional to modern. Because there are so many options to choose from, homeowners in Atlanta, Georgia, can make their lives easier by hiring a professional home remodeler to help design the perfect new entryway for their home, and that's where Randall Pros can help.
Randall Pros was founded by Randall Brothers, the premier product supplier for custom home builders and remodeling contractors in Atlanta. With our many years serving the industry, we've come to learn who the most reputable companies are, and we're honored to list these companies here for you to help narrow down your search.
You can confidently hire any contractor listed at Randall Pros because all of them have:
Been in business for at least one year in the Atlanta area
Demonstrated top-tier craftsmanship and customer service
Taken efforts to protect their customers by being licensed and insured as required by law (where applicable)
Updating your front entry door, whether replacing the whole thing or just the sidelites, is a relatively easy way to refresh the look of the front of your home. Your first step is reaching out to one of the trusted companies you'll find here at Randall Pros.
Need an installer? Be sure to check out Randall Pro Contractors today.